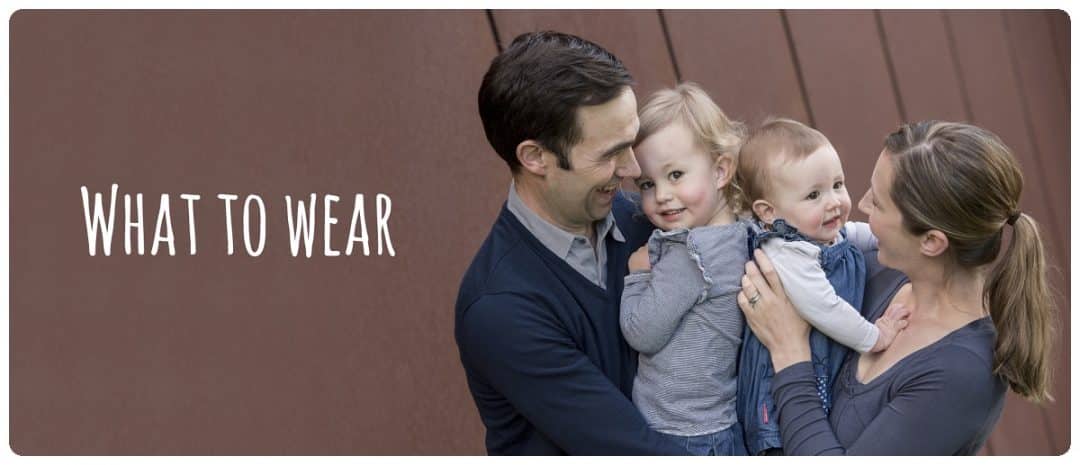 We get asked this question a lot, and the perfect answer is different for everybody of course, but there are a few tips that can really help. If you follow the advice below, you'll give yourself the best chance of getting the gorgeous, flatting pictures you're looking for from your session, and when you look at those pictures, your eyes will be drawn to the faces of the people you love rather than being distracted by their clothing.
We've put together a list of our favourites tips, and we're always on the lookout for more, so please send us a question if there's something we haven't covered below:
1. Number One Mum:
Everything else in our list is a tip, but this one is a rule – for your portrait session, choose clothes for mum before the kids. This way you can pick or buy something that fits well, looks and feels great, and then organise the rest of the family around that. Starting off with the kids first can end up with Mum losing out badly, and nobody wants that!
2. Dress for the weather:
Above anything else, let's make sure that everyone is comfortable and happy. In the cooler months this means dressing warmly and bringing some layers. The advantage of a winter session is that we often get beautiful light and lush, green backgrounds, as well as an opportunity to dress kids up in winter gear like beanies, scarves and other cuteness.
3. Fitted but not tight:
Most of us have some lumps and bumps we'd rather not have highlighted in a photo, and the trick to this is to wear clothing which fits you well without being too tight or too loose. If clothes are too loose or baggy, they make people look larger in photos than they actually are.
4. If in doubt, go classic and simple:
When you look at these pictures in 20 years time, we want you to be able to enjoy the memories rather than seeing only the fashions of this year. Strong, detailed patterns, bright colours or text can distract from your faces in the images and reduce the impact of your expressions. Block colours are best, and there are more tips below on which colours work best.
5. Colours:
Rather than having the whole family match try coordinating instead, so that you all look great together without looking like you're in a uniform. Here are some colour groupings that we've seen work well:
Everybody in different shades of one colour (e.g., ranging from dark blue to baby blue)
Varying colours within one "colour family", such as warm colours (reds/oranges/yellows), cool colours (blues/greens/purples) or neutrals (whites, creams, greys, blacks)
Neutral parents and colourful kids. When doing this one, it's a good idea to keep the kids in quite similar colours (or even the same colour) to avoid the whole-family pictures becoming too busy.
6. Don't get lost:
When choosing colours, avoid any which are likely to be a big part of the background of your picture (e.g., green if there are trees, yellow and blue if you're at the beach).
7. Be You:
If you normally wear dresses, you should wear a dress in the pictures, if you normally wear jeans or pants, that's what you should wear to the session. If you normally wear tracksuits, you should … um … wear a dress, jeans or pants!
The advice above is all about getting your clothing to look great without stealing attention from your faces, but if there's not a single item of clothing in your wardrobe without a pattern on it, then you should wear a pattern in your session – just call us when you're choosing and we can help you choose one that works well with your location and the rest of the family's clothing.
8. Keep your options open:
If all else fails, bring along a few options and wear the most likely one. In most of the locations we use there is a place to change, but we can always confirm that for you if you call us.
Especially for kids, it is a great idea to bring a couple of changes and accessories, as we can then give you a bigger range of images to choose from.
If you need any other help, please call us on 1800 731 243. In the meantime, there's lots of other info on this site to help you get ready for an amazing session:
Get some inspiration for clothing, locations and more! We can help with all of that when we plan your session, but there's nothing quite like examples to stimulate some great ideas.
Take your portrait experience to the next level by telling us your story. It always leads to more personal, meaningful images and also allows you to incorporate your family's beautiful words into your wall art and/or albums.
Come and Like our page and keep an eye out for our regular competitions, as well as any new blog posts and tips for awesome portraits!