Ok, so here's the problem. The formal family portraits we take after your ceremony can be an important part of your family's story and the history you're creating together. When we look back at the weddings of our parents and grandparents, these pictures are the ones we go to, and your own formal family photos will take their place alongside them as part of a larger story.
On the other hand, let's face it, standing in a row with your loved-ones may be the least fun you'll have on your wedding day! So, here's our guide to making these pictures great without spending too much of your time on them.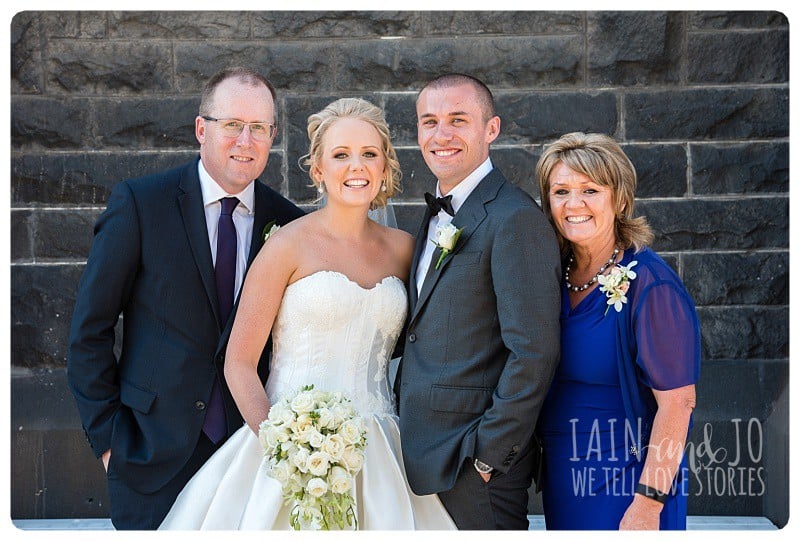 Step 1: Write the perfect list of formal family photos
Our best advice is to keep it simple! Focus on those closest to you and arrange the groupings to minimise the amount of people-shuffling. Your cheeks will start hurting after about 10 photos, so 8-10 is a good number to keep in mind. We can help you with a great template.
We recommend to just include parents, siblings (and partners and kids) and grandparents in these "official photos" otherwise the list gets very long, very quickly. If you are uncertain about whether a specific photo should be on the list, here are a few questions that might help everybody:
Can you imagine how that specific photo will be used? If you can visualise that photo in your wedding album, on somebody's wall or a mantelpiece, then you should consider putting it on the list.
Is this group formal or informal? It's a good idea to get the most important photos straight after the ceremony for practical reasons, there are some groups which make more sense to photograph less formally later on in the day. Maybe you've got a group of close friends from school or work who rarely come together in a complete group? Or maybe your mum's siblings would love a photo together? Groups like this shouldn't be on the formal family photo list, but definitely let us know about them so we can make sure we get a great photo for you. We've got more tips on reception photos later.
Once you have the list (including everyone's first names) it's a really good idea to allocate one person for each family to assist us to find everyone when the time comes.
Step 2: Take the photos with young kids and elderly grandparents first
It's not fair to ask elderly relatives to wait around for all the photos to be taken – which are often outdoors and at the mercy of the elements. So pop these first on the list for them.
The same goes for young kids, it's a good idea to nab them quickly before they go completely off the rails! And no matter the age, trust Iain to work his magic while all the adults look at the camera. Otherwise you'll end up with a great photos of the kids but all the adults in the photo are pulling a funny face or pointing at the camera.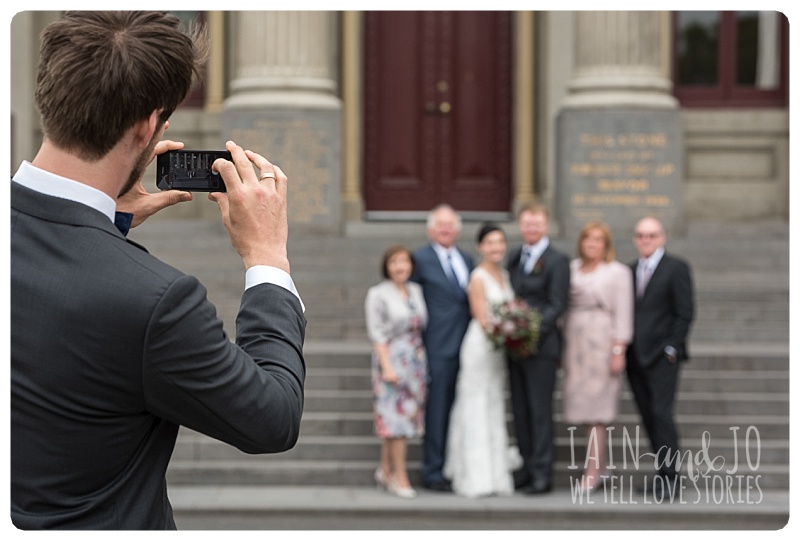 Step 3: Politely ask all other guests with cameras to stay away
Or at the least, ask them to take their own pics from the far sides, not immediately behind Iain's lens. The reason for this is apart from getting in the way when Iain steps back, the subject's eyes are slightly drawn to the other camera and it's impossible to see this until later in post-production. At least if the other snap-happy guests are to the side, we can easily tell. What we'll then do is let them take their photo first and then bring everyone's focus back to Iain's lens.

Step 4: Perfect posing
Family photos are the most posed, least natural photos of the day. To get them quickly and efficiently, here's a few posing tips that we recommend to get everyone in the photo looking their best.
Everyone should stand slightly side on, facing into the middle. The bigger the group, the more side-on everyone will need to be, to fit everyone in! As friendly as it seems, don't stand front on with your arms around the people on either side of you, it makes jackets and shirt bulge open and no one wants that
Men – all put your hand that the camera can see into your pants pocket – for some reason, male hands just look really big in photos!
Ladies – leave behind your handbag, program or anything else in your hands. And guys – take out anything from your pockets that makes a weird bulge
Stand in a straight line (ie. not a curved semi-circle). Once we tell the people on the ends that they will look larger than everyone else if they are closer to the camera, they quickly get into line
 
Step 5: The Reception
Some groups just don't 'fit' in the formal family photos after the ceremony and that doesn't always mean that the photo isn't an important part of your family's history. We obviously think photos are important, but we want you to be able to spend time enjoying the night with your guests rather than just standing next to them and smiling! Here are two questions to help you get that perfect balance:
Do either of you need to be in the photo? We're yours for the day and secondly-but-very-importantly, we're also there to help your families too. If there's time amongst the formalities of the reception, we're happy to take as many portraits as your parents want with their siblings, friends etc. If they don't need the happy couple in their photos, even better (and easier for you!) Just tell your family to come and find Iain early in the night and he'll help however he can.
Would you be happy to be dragged off the dance floor to be in this photo? If the answer is yes, then let's do it. Between the formalities, eating, catching up with an entire room of your favourite people, and possibly carving up the dance floor, you're going to be busy. Some photos are worth interrupting all of that, but (and I'm saying this despite being incredibly biased!) not all photos are worth it. You'll only get one wedding reception, so we're here to help you get the important photos and enjoy the rest of the night by just being in the moment and soaking it up.
The best way is to make a list of "Please drag me from the dance floor" photos, and let your families know that they can add pictures to the list but they need to get the OK from both of you if you're going to be in them.
I hope all of that helps you to enjoy your day and come out the other side with great photos and a happy family too.
Family photos don't need to be torturous, if you follow at least some of these tips, they can even be fun!